Standing up for a Nature Positive World, with Rt. Hon Lord Goldsmith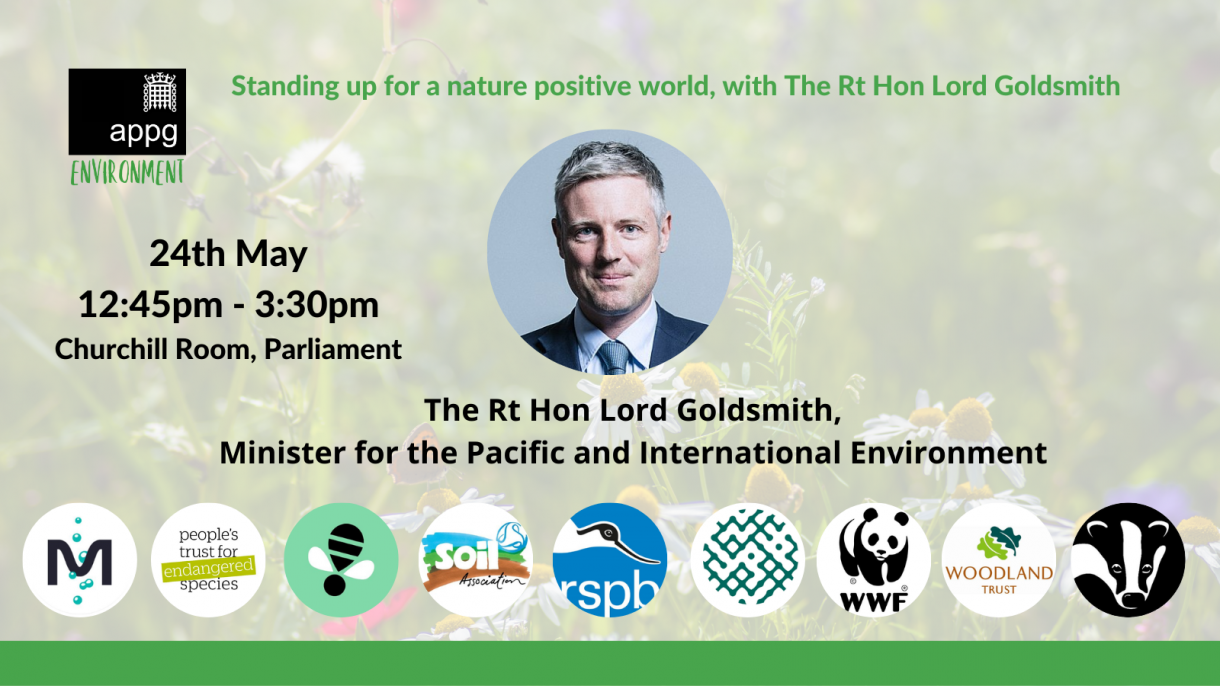 Standing up for a nature positive world, with The Rt Hon. Lord Goldsmith 
Drop-in CBD COP15 reception 
DATE: Tuesday 24th May 2022
TIME: 12:45pm - 3:30pm 
LOCATION: Churchill Room, Palace of Westminster
On 24th May, the Environment APPG, will be hosting a parliamentary drop-in on standing up for a nature positive world, with a keynote speech from Zac Goldsmith MP (Minister for the Pacific and International Environment), showcases of the UK's most iconic species, and opportunities to pledge for a nature-rich future.
The reception will focus on achieving a nature positive world by 2030 at the upcoming Convention on Biological Diversity (CBD) summit, COP15.
The CBD's purpose is to conserve and promote the sustainable use of biological diversity across the world. Nature is in crisis and the need for action is more urgent than ever. International biodiversity targets set in 2010 have all been missed, nature continues to decline and more than 1 in 5 species globally are at risk of extinction. 
Commitments made at COP26 will not succeed unless nature is embedded in climate solutions. The UK must use its international influence to drive the goal of halting and reversing nature's decline by 2030.
The CBD COP15 meeting rescheduled for the second half of 2022 in Kunming, China represents a final chance to ensure meaningful action to tackle the global biodiversity crisis is delivered in this crucial decade.
Agenda
Drop-in from 12:45 - 15:30 
Speeches (from 13:00):
Welcome from Anthony Browne MP, Chair of the All-Party Parliamentary Group on the Environment 
Keynote address from Lord Goldsmith, Minister for the Environment with responsibility for CBD 
Representative from the CBD Secretariat (invited)
Response from Alex Sobel MP, Shadow Minister for the Environment (invited)
Response from Caroline Lucas MP, Chair of the All-Party Parliamentary Group on Climate Change 
The following organisations will be supporting this event: Marine Conservation Society, People's Trust for Endangered Species, RSPB, Soil Association, Wildlife and Countryside Link, Wildlife Trusts, Woodland Trust, WWF-UK, Zero Hour (CEE Bill campaign), Environment APPG. 
We very hope to see as many Parliamentarians as possible on 24 May - which will be a fantastic opportunity to find out more about how Parliamentarians can help to secure the urgent action nature needs at home - and across the world. Refreshments will be provided throughout the day, along with a photographer and opportunities to share the event on social media.
RSVP to appg@green-alliance.org.uk to confirm your attendance. 
Please note that this event if for parliamentarians only.